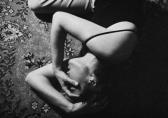 Last night as I got home from work, I sat on my bed contemplating my horrible day. My head was pulsating with an urgency, signaling the ever present headache. I reach out to grab my bottle of water and a couple tablets of my topamax. I knew it was no use because the migraine was going to be full fledged within an hour, but that didn't deter me from being optimistic. My head had barely touched the pillow when I heard raised voices from the living room. Not wanting to get up from sheer lack of energy, I listened to canopy ensuing between my younger brother and my younger sister. I told myself that they were old enough to resolve their differences without me getting involved each time. "
Leylaaaaaaaaaa! Leeeeeeyla
!" screamed my older sister as the tumbling of bodies echoed throughout the hallway. Pissed and irritated I get my butt out of bed to play the mediator. This was not a good day for me and I was stupid enough to believe I would find peace in this house. I walk into the living room to find my younger sister lying on the floor ,my older sister's body shielding her from the blows my brother was throwing. I almost burst out laughing but realize the seriousness of the situation and take action instead. I quickly maneuver my body in between my brother and my sisters. Planting my weight against the sofa I pushed him off them and turned my steely eyes to him. "
What in the Hell do you think you are doing
?" I yell. My older sister helps the younger one up and they all start speaking at the same time. I turn to the younger girl and tell her to shut up because her voice grates against my nerves. Facing the 5 ft 9 " teenager who seems to be ready to pounce on me, I ask my question again this time counting off my exasperation at this show of idiocracy.
The argument begun with my sister donning a pair of jeans and my brother, "the wadaad", ordering her not to step out the house with the jeans on. I smile as I listen to how passionately he positions his argument. Meanwhile, the chickenhead is slowly seeing that she will come out on the rosy side of things and start clucking her head off. I let her blow off stem for a while and pretty soon a shouting match ensues between her and her assailant. She turns on her heels and grabs the phone threatening to dial 911. He beats his chest and states he is not scared of 911 because his religion assures him he is right. My older sister looks to me for intervention and I can't be bothered to mother these two adolescents. I claim my phone back from the chickenhead and tell her to sit down and let me deal with this. She doesn't pay me any attention and keeps grating on my nerves with her shrill voice.
**Slap**
, I let my palm make my point, she instantly shuts up and sits down.
I turn my attention back to the so called "man" of the house. I lay down reasons why he can't raise a hand to her. She has parents who are living and breathing, she is not your wife nor your daughter, she is her own person and the most you can do is advice her on her course of action. "
You and your western values, who do you think you are?
" he throws it back in my face. I calmly look him in the eye and smirk, "
I am the one who pays for your roof and your food
." He opens his mouth to retort something but instead chooses to go to the bathroom to take a shower. I breath deeply as I try to fight the urge to punch the stupid out of him. I face my younger sister, by now she has a golf sized bulge on her head. I grab an ice pack from the freezer and slap it in her hand, after which I go off on her. I tell her how dumb she is that she can talk back to people but can't defend herself against a beating. She is asinine because this is the second time I bailed her out of an ass-whuping, courtesy of my brothers, due to her afka dheer. The last time she ended up with a grapefruit sized knob on her head. I shake my head at her and tell her to lie down. I grab my phone and proceed to let their mother know what happened and let her deal with the punishment.
The rest of the night went by relatively quiet. I sat up in my bed trying to nurse my migraine when my other sister came in from her night classes. I share with her the events of the night and we share a good laugh over how childish the squabble was, but we both understand there is a deeper issue we need to address; our brother's aggression against women. He seems angry at the world and more at women than anything. I can't seem to find an inlet in his psyche that I can penetrate and explore why he feels the way he does. My sister and I talk about the numerous ass whupping I used to deliver to my older brother everytime he felt an urge to exercise control. I used to be a tom-boy in my hey days and didn't take crap from anyone especially a man. If he could swing from the branches, so could I. If he could dive from the highest diving board, so could I. If he scored so many goals in soccer, I would work to score twice as much as he did. I was competitive and brazen. My best friends were male and I formulated my male ego, but I digress. My uncle had christened me Tyson. I had the knack of showing my frustration by punching something or somebody, but if I recall right he called me Tyson because one time my brother and I had a fight and my brother tried to defend himself by tangling my body with his and scratching my arms and face to stop the flurry of fists. I ended up doing more damage than he did, plus he left evidence of his attack while mine melted into his skin tone. The next day, my dad watched me out of the corner of his eyes noticing the scratch marks. That evening as my brother walked in from masjid, my dad lay in wait for him with a TV-VCR wire. I felt sorry for my brother at that time, but I remember thinking that he was learning a critical lesson and that was never to lay a hand on a woman. I can't help but make a comparison. I wish my younger brother could learn his lesson now otherwise I fear he will carry this mentality with him throughtout his life. The mentality that he is the man and therefore all should do as he wants. That he free to punish whenever & whoever he feels like. I am now scared of leaving the younger ones in his care due to his aggression.